Dr. Rachael M. Valltos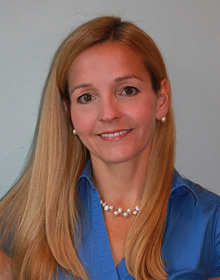 Meet Dr. Valltos
Dr. Valltos is most passionate about helping her patients improve their smiles and improve their health. Through strong patient education, Dr. Valltos believes she empowers her patients to help themselves. Her professional knowledge and skills, coupled with patience, kindness, caring, and a gentle touch lets her patients know that they can trust and count on her to address their needs. Dr. Valltos does not view dentistry as the practice of treating teeth, but rather treating people as a whole.
Dr. Valltos discovered her love for the dental profession as a young adult while working in her uncle's dental office during summer breaks and throughout college. Each summer, she would see familiar faces and enjoyed getting to know patients and their families, while at the same time making a difference in people's health. Those experiences were so rewarding that Dr. Valltos decided dentistry was right for her.
The opportunity to help people is something that enriches Dr. Valltos' life on a daily basis. She appreciates how enriched her life has been and continues to be by each patient relationship. She places immeasurable value on what patients teach her every day.
Education and Continuing Education
Dr. Valltos attended James Madison University for her undergraduate degree and continued on to the University of Maryland Baltimore College of Dental Surgery, the world's first dental school, established in 1840, where she earned her dental degree.
Dr. Valltos participates in many hours of continuing education courses throughout the year. As dentistry is an extremely dynamic profession where patient needs and the technology are constantly evolving, Dr. Valltos understands the importance of participating in a variety of courses and seminars in order to meet these ever-changing needs. Aesthetic dentistry, dental implants, advances in dental materials and technology, pain management, and endodontics are just a few of the topics studied.
Professional Affiliations
American Dental Association
Virginia Dental Association
Northern Virginia Dental Society
American Society of Implant and Reconstructive Dentistry
Outside the Office
Dr. Valltos was born in Washington, D.C., and grew up in Herndon, VA, where she now lives with her husband, Dr. Sapperstein. They have been married for 20 years and have three children, Allison, Benjamin, and Caroline. To complete their house, they have two Tonkinese cats named Peggy and Roxie. Dr. Valltos enjoys staying active by running and hiking, as well as curling up with a good book.
Dr. Valltos and Dr. Sapperstein are both passionate about family. They spend most of their free time surrounded by siblings, cousins, parents, aunts, and uncles. They are both fortunate to have family that live close by and gather together on a weekly basis.
As her family is important in her life, so is her community. Dr. Valltos has regularly given dental health talks at her children's elementary school and preschool. She is also a coach for the Girls on the Run program, promoting the physical and emotional health of girls third through fifth grade.