Dr. Evan R. Sapperstein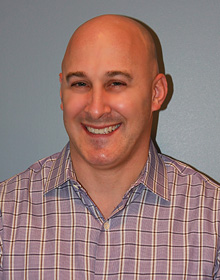 Meet Dr. Sapperstein
Dr. Evan Sapperstein is dedicated to helping his patients, especially those who have avoided seeking treatment due to fear, anxiety, and even shame. Dr. Sapperstein takes pride in educating patients about their oral health without judgment or discouragement. He enjoys making his patients feel at ease and confident about their treatment decisions. Dr. Sapperstein's ultimate goal is to create a relationship that patients can rely upon and trust.
Dr. Sapperstein discovered his love for the dental profession as a young adult while working for his uncle who also happens to be a dentist. The compassion his uncle showed patients was rewarded in spades. This positive experience convinced Dr. Sapperstein that dentistry was right for him.
Dr. Sapperstein enjoys getting to know patients and their families, as the dental profession provides a unique setting where he is able to develop long term relationships with many different people of all ages and backgrounds. When these patients share their life experiences, it actually enriches his life as well.
Education and Continuing Education
Dr. Sapperstein completed his undergraduate education at the University of Maryland, College Park before earning his dental degree at the University of Maryland, Baltimore College of Dental Surgery, the world's first dental school established in 1840. He then elected to further his education by completing an optional and highly competitive one year General Practice Residency at the Baltimore Veterans Affairs Hospital.
Since graduating, Dr. Sapperstein has continued his education in the ever-changing field of dentistry. The innovations and technology studied give him a greater understanding of multi-disciplinary care and allow him to meet his patients' diverse needs in the areas of aesthetic dentistry, dental implants, advances in dental materials and technology, pain management, and endodontics.
Professional Affiliations
American Dental Association
Virginia Dental Association
Northern Virginia Dental Society
Outside the Office
Dr. Sapperstein was born in Baltimore, Maryland, and now resides in Herndon with his wife, Dr. Valltos. They have been married for 20 years and have three children, Allison, Benjamin, and Caroline, To complete their household, they have two Tonkinese cats named Peggy and Roxie.
In his free time, Dr. Sapperstein enjoys science fiction, reading, cheering on the Baltimore Ravens and Orioles, and volunteering with his daughter's Scout troup. Dr. Sapperstein and Dr. Valltos are both passionate about family and feel very fortunate to have so many of their siblings, cousins, parents, aunts, and uncles living close by.